Paola Lopez – Senior Program Director at Kinderoo Children's Academy in Florida (USA) reviews the Glow and Got Bot:
Upon opening the box, we saw a beautiful and futuristic robot. The bot is a charming, magical merge between awe and wonder with technology. We were immediately curious to observe and analyze its potential.
We observed this product in two classrooms with children of age four. I hope that after reading our observations, you can agree that there's still so much that we need to explore! Both classrooms gave us different perspectives based on their experiences, and it's clear that students and educators need more time to explore other pedagogical concepts and STEAM theories. Today's observations were fascinating and positive!
Making a careful observation of how the students who participated behaved in front of this resource, we appreciate how the Bot, full of light, sound, and movement, can promote joy and cognitive development through a child's specific interest.
How the children interacted:
We were able to see how the children who participated were capable of creating innovative strategies to have creative outlets in resolving inquiry questions that were presented to them. All the concepts described about the Glow and Go Bot on the TTS website were confirmed and observed today!
We also saw situations where the children were working on spatial orientation concepts and prepositions of place and direction (the Bot is in front of me/ I am behind the Bot). The directionality (the Bot moves forward, backward, to the right, to the left) thus adds to language development, providing the child with the possibility of increased exposure to speech and non-verbal language.
An aspect worth highlighting is the child's ability to face obstacles through problem-solving. Their predictions were so creative it led them to immerse themselves in a world of probing, testing, and investigation— with intensity.
This innovative resource is full of exciting elements such as sound, light, and movement, also promotes the development of independent learning and organization, leading the child's thinking to the creation of STEAM ideas strategies, and purposes.
We noticed different interest patterns with the other group of four-year-olds. A student who is interested in the study of light, the first thing she identified was the reflection of the Bot's light on her hands. For this experience, we dimmed the lights to use the Early Years Projector. The children were able to see the Glow and Go Bot's shadow, and its vibrant colors against the surface areas as one child moved the projector to follow the Bot.
We all have a natural bias towards pattern recognition. When we see something that is not entirely uniform, such as an object in shadow form, patterns will emerge. In this case, the Glow and Go Bot took on a new identity each time the children programmed the Bot to move in a different direction.
The Early Years Projector is an excellent companion for the Glow and Go Bot for their STEAM approach; both resources engage children who are learning about technology alongside other skills like math & science at developmentally appropriate levels; it enables them to explore different possibilities through investigation, which promotes creativity among all Early Years learners!
This innovative resource is full of exciting elements such as sound, light, and movement, and also promotes the development of independent learning and organization, leading the child's thinking to the creation of STEAM ideas strategies, and purposes.

Paola Lopez
Another student involved a friend, showing that collaboration and interpersonal relationships are nourished during these types of experiences; the children took turns handling the Bot and programming it with instructions; they soon made up a game-using the Bot as a carrier, carrying an object in different directions. We witnessed math connections during this game as the children had to estimate how many times the Bot's button was pressed and then used that information to get the robot to its projected destination.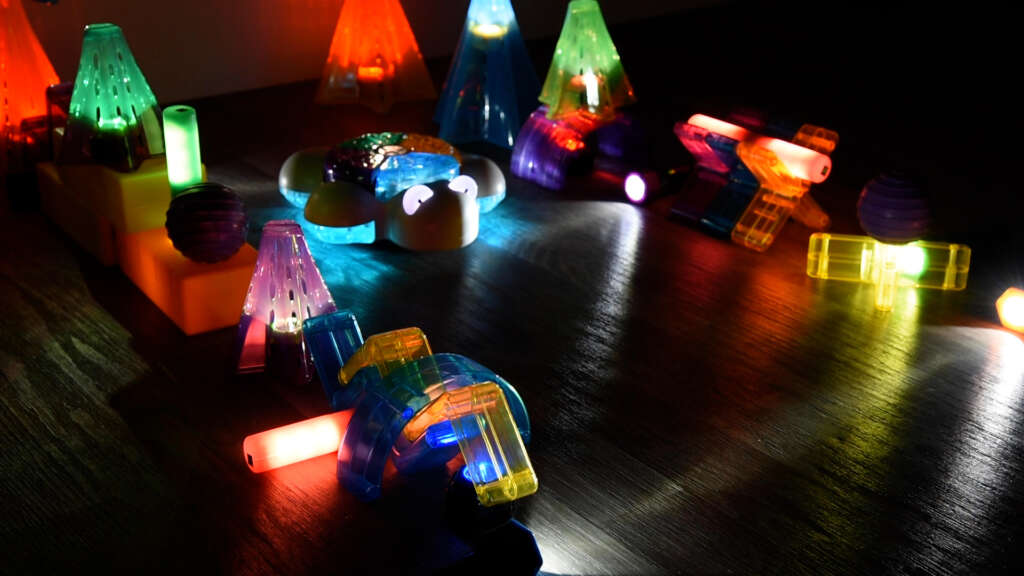 We also observed the children getting nervous when they saw the Glow and Go Bot move closer to the obstacles they had built around the carpet area. They had to react quickly so as not to allow it to collide, asking their friends for quick answers to solve problems. We noticed a social-emotional connection emerging. Empathy towards the Bot was demonstrated as the children were seen moving the obstacles so they wouldn't get "hurt." This is a concept that needs more observation and exploration. If children can develop empathy for a robot, can this behavior translate to human compassion and social justice?
Developing critical skills:
The Glow and Go Bot is helping our students navigate through a technological journey where they're learning to develop skills and gain an understanding of how technology works.
One student used the Glow and Go Bot to engage in dramatic play; for him, the TTS bottles were used to give potions to the Bot. Thus, he could control his movements (recognizing beforehand that it would happen).
The children spent a long period of time exploring the Glow and Go Bot; this enabled us to see an interactive robot designed to help the children learn about coding. They gained a new understanding of properties like early programming that will shape their future quest for knowledge on robots in this rapidly changing world we live in today!
The Glow and Go Bot can help us create a world where children can be creative and flexible in all aspects of their lives. TTS is helping Early Learning educators accomplish this by fostering growth through technology, with an emphasis on emotional intelligence (EQ), cognitive flexibility(CF), creativity – also known as generative thinking or idea generation skills.
Evaluation of the Glow and Go Bot:
I am now convinced that we need more Glow and Go Bots for our other classrooms. The value-to-cost ratio outperforms any resource we've tried so far with our students. Unlike many other products on the market, which are designed to be played with only once or twice before they break down and cannot be used again due to their short lifespan (usually less than three months), the Glow & Go Bot is made of durable materials that will last for years.
After observing what four-year-olds can do with this resource, we are curious and excited to test theories with our toddlers and three-year-olds.
As a reminder, we are educators and play facilitators, we must take the time to play with this type of technology because we need to be 21st-century learners to be 21st-century Educators.
The educators involved in this pedagogical observation were: Jenny Gallego and Gabriela Urdaneta.