Carol Allen – Early Years Expert, and James Allen – Reception Teacher provided a testimonial of the Glow and Go Bot:
The Glow and Go Bot was used in a Reception Class without adult direction as part of continuous provision to establish how the children engaged with it independently.   
It is equally just as useful in adult led and directed sessions where precise curriculum topics are to be explored. The different levels of access would allow for extension, generalisation and consolidation communication and problem-solving work. Collaboration and teamwork are key outcomes noticed when working with this resource. It has so many curriculum opportunities that we are developing a cross curricular map to offer ideas for integrated use of the resource.
Positive points:
The children engaged very quickly and knew it was a 'robot' using the term instantly and without prompting. They were excited to see what he could do.
Very useful that the children's access buttons are all accessible on the top of the device thus it doesn't have to be lifted up at all during a session.
Having differing mode levels was a useful feature. Stepped access such as on this resource allows for different levels of access and control which may be used sequentially as part of a developmental programme however equally can be used to match particular activities.
Mode 1 is especially useful as it offers a simple cause and effect level for those working at this early developmental level. This underpins so much later learning so to be able to work specifically on this in the resource is excellent. This allows for time between moves, so it is possible to discuss the move that has happened and what the next one might be. This stepped approach firstly reduces errors as it facilitates thinking time between moves. This really supports the demand on working memory as it alters the pace of the activity and allows time for mark making or recording in a suitable format to establish simple sequences rather than these having to be held in memory.
The audio cues in Mode 1 are clear and act as an auditory prompt and reinforcement of the actions.
The 'dancing' mode as the children called it was very popular and they were always keen to dance with the Glo and Go Bot and would happily stand up quickly and dance around the dancing robot.   
There was lovely, self initiated problem solving as the children set themselves challenges for example can we get it to the carpet; out of the door etc.
The Glo Bot is an excellent and motivating resource that engages the children and facilitates access to so many areas of early developmental skills.

Carol Allen
Equally, the children quickly established that groups of more than four were not effective when using Glo Bot as there were too many ideas and some people were not able to see their contributions used. The development of this level of social awareness is a key feature of EYFS. The optimum group size was found to be two children but four worked well.
Communication skills are developed when working as a group with a common purpose. Formulating solutions and sharing/explaining these to the group are key communication skills to be learned.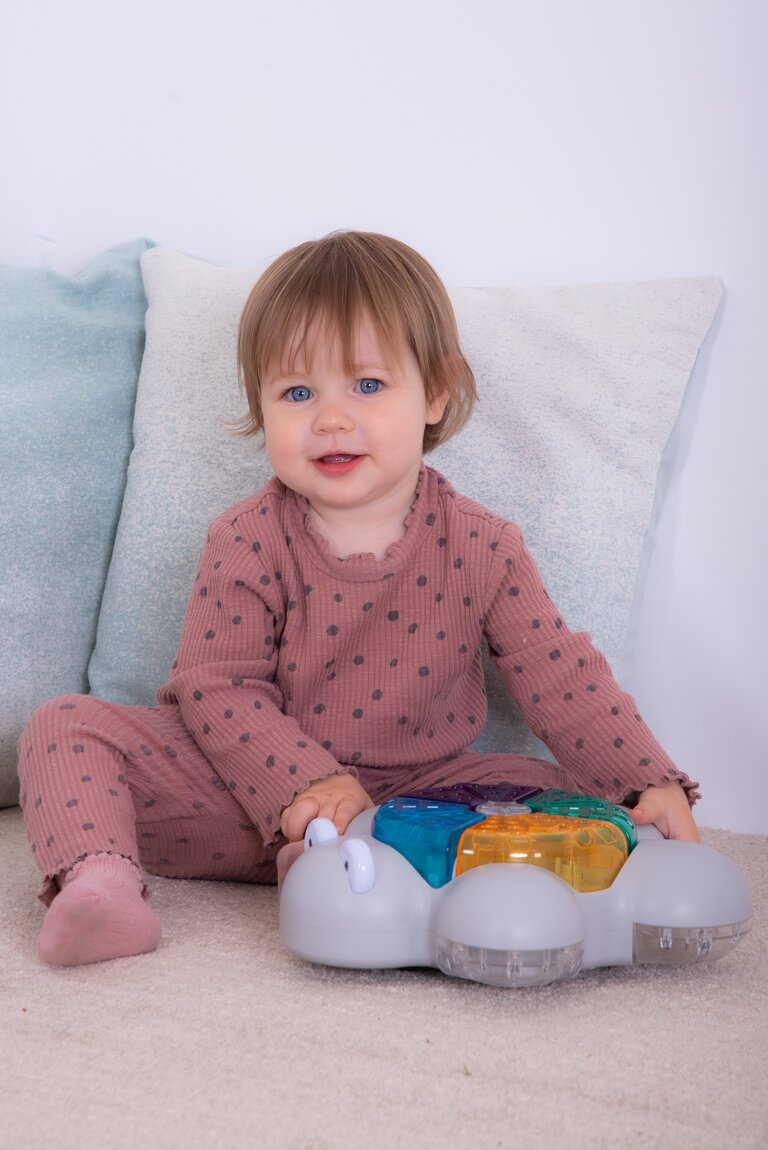 Very clear movement pathways as the Glo Bot moves in a directional manner not a rotational manner so when instructing it to move left it does so by staying on the Y axis. As the young children are learning left and right concepts, this really helps understanding.
The speed of movement is sensible to allow easy visual tracking and time to work out whether the programmed move is correct.
The Glo Bot is an excellent and motivating resource that engages the children and facilitates access to so many areas of early developmental skills. From communication, through social collaborative skills to developing and extending working memory, it has the potential to be used effectively across the curriculum. A truly valuable resource which offers a range and sequence of access levels to educators; which engages independent exploration and adds a valuable resource for extending regular curriculum activities – 'Find the Phonics!'